Being a privately held company has its advantages – the sense of control over your firm and your operation being the chief ones people will think of. And, for a lot of small owner-run companies, that's good enough. But despite this line of thinking smaller isn't always better.
When business is good – customers happy and reliably buying your products, revenues stable and profits just right – many firms aren't compelled to think about taking their small- or medium-sized business and go public through an initial public officer (or IPO, which sees the company open up control of its shares in part or in whole to the investing public, with the shares then traded on a stock exchange).
And hey, as mentioned, there are definite upsides to sticking with the form and size (and staff count) a company is used too. But there are also many good reasons why a firm should go public, or if nothing else give the prospect of a public offering some serious consideration.
Not to be a tease, but haven't you ever dreamed of growing your company bigger and better, beyond its current operating limitations? Of launching a wider range of products, branching out into new projects or simply selling more to make more revenue? Which independent business person hasn't had these thoughts? Well, then consider some of the follow excellent reasons that answer the question of "why should I take my company public?"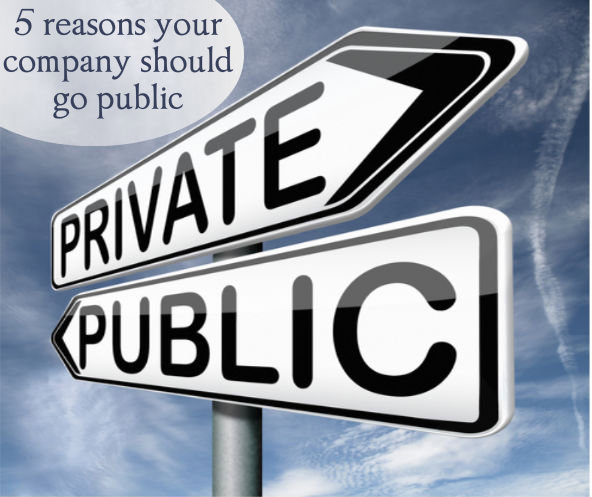 Better Relations with Outside Vendors/Contractors
In a few words, consider going public as giving your company's reputation a big shot in the arm. Being listed on a stock exchange gives a firm a real marker of validity – and big-league legitimacy – that can positively impact how the company does business with outside firms. In short, being a publicly traded company will see a firm perceived by others as more powerful and prestigious than it was before, or more than its privately held competitors. This status can facilitate relations with contractors and suppliers, and makes it easier to lure in staff and lure in new capital.
Bonuses for Founding Partners
When a company is public, the ability to reward publicly traded shares to staff can be used to reward the founders and employees who have been with the company since day one or its early period. This hard work, when rewarded with share equity, is a nice reward for those who have put big effort – or, in the case of founders, their own money – into the firm and seeing it through as it grows.
What's more, giving out shares can help a company retain its current staff, and give them an incentive to help the company improve its fundamentals (revenues and profits) as holding shares means someone's own worth is tied to that of the company's stock market performance. Shares can also be used as compensation in lieu of money to pay staff or give them bonuses.
Smoother Capital Access
This is a big one. Going public means offering up shares to the public – but these shares aren't available in a set quantity forever. Rather, when a company is looking to raise money (capital) to finance an expansion drive, new product line or acquire a competitor, they can simply issue more shares to be sold on the stock market. This is a relatively straightforward (and for many the best possible) way of bringing in cash to finance a plan to grow future operations.
Assists Takeovers
Having the ability to raise and distribute shares also comes in handy when buying out other firms, such as non-publicly traded rivals or a privately held upstart that has a great new idea or technology they've developed. This is made possible because the shares are a form of equity that can be leveraged in a buyout or merger deal.
Generate Buzz
Going public can generate some serious buzz for a company. Why? Because when a company is about to get listed on a stock exchange, it will become known to other investors (including major investors groups) and also likely members of the financial press, who love to write about good up-and-coming companies. And the value of buzz – getting a company's name in the public, outside its usual business circles – can't be underestimated. This image, if harnessed carefully, can be used to cultivate a company's brand and public position in an industry, paving the way for it to become even better known in the future.
So if you are interested in making your company public or want to know more about it contact the best business transformation consultant in your area. They will be able to guide you through the procedures.
Author Bio:
Jonathan Baker is working as a consultant for finance and education at Ontario. He keeps himself constantly updated about the latest news and trends in finance world through reading and also shares his insights and about these topics through his blogs. He lives with his wife in Toronto. he can be followed on twitter @Jonatha97039368