Apple is the one of the top most brands after Samsung in smartphones. Recently, it launched the Apple iPhone 6 plus which is very first phablet of the brand.
Since many users like the iPhone to work with the one hand, and on the iPhone 6 Plus one hand is simply not reach the top of the screen, Apple came up with the following piece: double tap on the sensor (not to be confused with a double click) shifts the top of the screen down. When pressed twice, as before, a list of recently run applications (and you can close the program you want).
Looking at App Store now displays the so-called "popular searches". Especially fun is that after some inquiry after the results of search for a substring is not preserved, it is reset to zero. By the way, the search string for this display looks very small. It is clear that they could not adjust the screen size under the active, but nonetheless.
Apple iPhone 6 Plus is powered with iOS 9, in Apple iOS 8, Apple has already allowed to add third-party keyboard. And the phone application in 6 plus works well Test the phone application. Subscribers could hear normally, you too could be heard well. But now when talking on the street with a noticeable wind callers complained that much noise to disturb the conversation. Sound on internal speaker is quite decent: loud enough, clearly, without rattling. The sound on EarPod is all-good: very nice bass, good high, surround sound, high-quality. Music on this iPhone can listen quietly.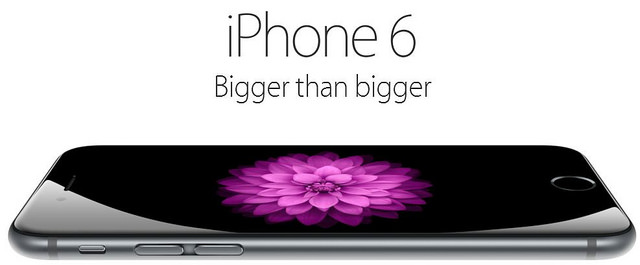 Built-in view player, as before, has relatively modest resources and understands very limited set of codecs containers. Podcasts (radio) have become more convenient, in previous versions of iOS there were fewer opportunities. The Health, the basic version appeared very powerful and interesting application "Health", which records not only all kinds of activity (plus sleep), but also all kinds of medical information, food and so on. Game Asphalt drove 8 works all quickly, smoothly, without jerks.
Settings of iPhone 6 Plus are very diverse. Many users run it very rare, but in vain: there are, of course, the freedom of Android is not achieved, but nevertheless iPhone has fairly wide limits can be adjusted by itself. Settings of Touch ID (finger scanner), when you use Touch ID first mandatory password is set – so you can always unlock the phone, if the print does not work. Next, you register one or more fingerprints, and then print can be used to unlock the iPhone to confirm purchases in the store. Powered Touch ID is cool and work almost without fail, to use it very convenient.
The camera interface is traditionally minimalistic. Photo, video, view, steam effects for video, the selection effects for photo, camera switching (from the rear to the front and back), delay shooting, on-off HDR and flash mode. Powered focus (but not shooting) on ​​the finger, as if to make and keep a finger, there is a fixing exposure and focus.
In built applications works really smooth in iOS 8 of Apple iPhone 6 Plus and the new iOS 9 would bring lots more fun and originality to the phone but the iOS 9 release date is in dilemma at present.