Do you want to know why using an online store builder is the right choice for your business? Well, it is one of the easiest ways to create a low investment start up. The kind of online store you create can really affect how your business would perform in the time to come. No doubt, making a website on your own can be a real challenge. That's where Wix.com comes in, an online webpage builder. However, to build an ecommerce site, you need WixStores.With WixStores you can set up your business online in no time. In order to get yourself up and running, you need to:
Create an Account: This just a standard sign up for you to get yourself registered, as expected.
Choose a Template: After signing up and choosing obvious option of creating your own website, you are first taken to a screen that asks you to choose a template and category for your website. As you can see in the image, there are a lot of predesigned templates for different kinds of stores. I went with the "Electronic Store" option.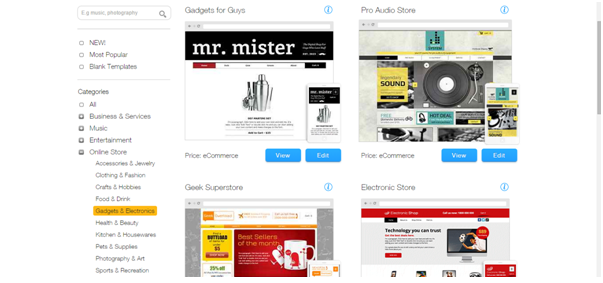 Start Editing and Creating the Website: After the template is chosen, you are taken to the Wix Editor. Here you can start customizing your website, adding your products and changing the look. A tool bar on the left gives you the main editing options.

The first of them being a 'Pages' option, as the name suggests, allows you to create or add new pages to your website.
You can even create pages within pages, such as for different product categories. You can simply drag and drop pages to set them to the order you like or use the 'Add' option to create new page or dropdown menu. It gives you the complete control.
Next, you have a Design toolbar that lets you change the background, colors and fonts on your website. You can do this using the pre-sets that Wix have provided or use your own custom images.

Online Store Builder
The last icon, which has a shopping bag on it, is the WixStores section of the editor.

This is the hub for adding new things to your website, and this includes any new text box, lists, images, videos and other media. You can also create product galleries, checkout pages and shopping cart options. Additionally, it also includes tools to add social integration to your website. Adding anything using this option is extremely easy; once you have made your selection it is a simple drag and drop to place it on your website.
Moreover, you will find the Wix App Market.

This is perhaps the most interesting feature of the editor which lets you utilize many apps such as those that allow you add checkout options, form builder, feedback systems and even chat support. This option is amazing when it comes to getting your business up and actually running.
Publishing Your Store with WixStores: Once you are satisfied with what you have created, click the "Publish" button on the top right.If this the first time you are doing this you will be asked to name your website and it will give you a Wix based domain for your website(in the format "yourusername.wix.com/websitename"). Your website will first be saved and then you will be presented with additional options to make it live. You can change the domain you have owned very easily, if you desire. Of course, you can always buy a domain or connect an existing domain you have to your Wix website.
---
If you follow these steps, you'll see that from signing up to getting your online store published is only a matter of minutes. Not all online store builders deliver what they promise but WixStores is certainly an impressive tool.