Relocating to Mexico can be a wonderful adventure. Many visitors play with the idea of just leaving their old lives behind and starting over in a new place, a tropical paradise. I was part of those dreamers; I moved to Mexico some years ago and never looked back and mystory is like many others that just took the jump and decided to move.
I was reminded of that part of my life because recently some friends relocated from Fresno, California to Playa del Carmen, Mexico. They arrived to their new home with 18 suitcases and their four school-aged children, and I assisted them in finding a home and a school for their children.
The romantic idea of leaving everything behind is rapidly crushed by the reality of moving to a different country, even more if you do not know the language or the culture. Everything seems different and complicated – paperwork that needs to be done, furnishing the house, finding schools and jobs -, until it stops being complicated and you get used to your new property and area.
Here are some FAQ's regarding the process of moving to Mexico, so read on and learnabout the visa and other documents needed to move to Mexico full or part time.
Relocating to Mexico:
Am I ready to go? 
Remember to migrate, the first step is to visit your local consulate or embassy and ask about the process of getting the right visa for your needs. Are you planning on only spending part of the year in Mexico? Do you intend to retire here full time? Are you planning on working in Mexico?
These are important questions to consider, as the Mexican government offers a variety of visas. A few years ago it was possible to get in Mexico with an FMT (tourist visa, valid for 180 days) and then change your migratory status while still in Mexico. Keep in mind this is not possible anymore, you have to apply for your visa in your country of origin and wait for it to be granted before making plans to move.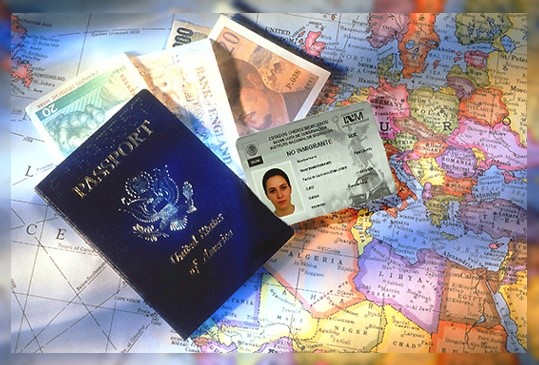 What is the Best Visa for Me? 
Choosing the right visa for you is easy if you know the basic characteristics of each of them. Recently the immigration laws have changed and the traditional visas are being replaced, here is a chart showing the characteristics of the old and new visas.
OLD VISAS
NEW VISAS
FMTFMT is the tourist visa that is obtained when first entering into Mexico. These can continually be renewed by simply leaving Mexico within the allotted six month period, and then reentering.

VISA DE VISITANTE SIN PERMISO PARA REALIZAR ACTIVIDADES REMUNERADASVISITOR VISA / Not allowed to earn wages

This visa allows you to visit Mexico for activities that do not involve receiving remuneration as: tourism, transit through Mexico, businesses (such as attending meetings, supervisory visits, training or consultancies in Mexico), activities related to the exercise of ministers worship, technical jobs in companies (without pay in Mexico), philanthropic activities, sport activities, medical treatments, attending fairs and / or conferences as well as courses or seminars involving no more than 180 days.

FM3FM3 is a document for a person who wants to live at least part time in Mexico, but does not necessarily intend to make this their permanent home. To be granted an FM-3 status, you must prove you have sufficient resources to be financially independent, or meet certain requirements to be able to work or own a business in Mexico. FM-3 "Rentista" status is available to anyone with a monthly income (from investments, social security or other retirement) of less than $1,000 USD plus under $500 USD for each dependent. If one owns property in Mexico, the amount of income required is reduced by nearly one-half.
VISA DE RESIDENCIA TEMPORALTEMPORARY RESIDENCE VISA

Applicable to foreign nationals who intend to stay in Mexico for longer than 180 days and less than four years.

This type of visa can be obtained directly from any Mexican consulate and allows you to work in our country, as long as the wage received is paid abroad.

In case of having a job in Mexico and receiving wages in Mexico, the company or individual must contact directly with the National Migration Institute authorization to issue visa abroad.

FM2FM2 is a document for a person who intends to permanently reside in Mexico, with qualifications only slightly more stringent than FM-3 status. After five years of successfully meeting the requirements of the FM-2, one may apply for "Inmigrado" status, which allows you to enjoy most of the rights and privileges of Mexican citizen, the primary exception being the right to vote. Inmigrado status does not require you give up your native citizenship, but holders may freely work and remain in Mexico without annual renewals of the visas.
VISA DE RESIDENTE PERMANENTEPERMANENT RESIDENT VISA

If you intend to stay in Mexico for more than four years, it is necessary to apply for a permanent resident visa.

The residence card proving their legal stay and designed to remain in national territory must be processed within 30 calendar days from entry into the country.
Do I have All the Documents I Need?
You will need to have some important paperwork translated and apostilled to be able to enroll in social security, ask for a mortgage, receive a deed on a real estate property or enroll your kids in school. Make sure to do this before leaving your country, the most asked for documents are: birth and marriage certificates and college/university degrees.
In Mexico you will sometimes be asked to leave your original birth or marriage certificate. Don't panic! People are asked to bring recent originals, but you can request copies from your local civil registry office. For foreigners, leaving an original copy is not common – or easy – so make sure to bring extra originals, just in case.
Your passport and migratory form or visa will be requested for all of your transactions here in Mexico: from exchanging dollars to signing a rent contract. Having them handy will save you time and headaches. Some people move to Mexico while their visas are still being processed and the lawyers withhold these documents during the processing of the visa; make sure to keep at least one of these documents with you at all times: your driver's licenses won't do!